Tips to Spring Clean your RV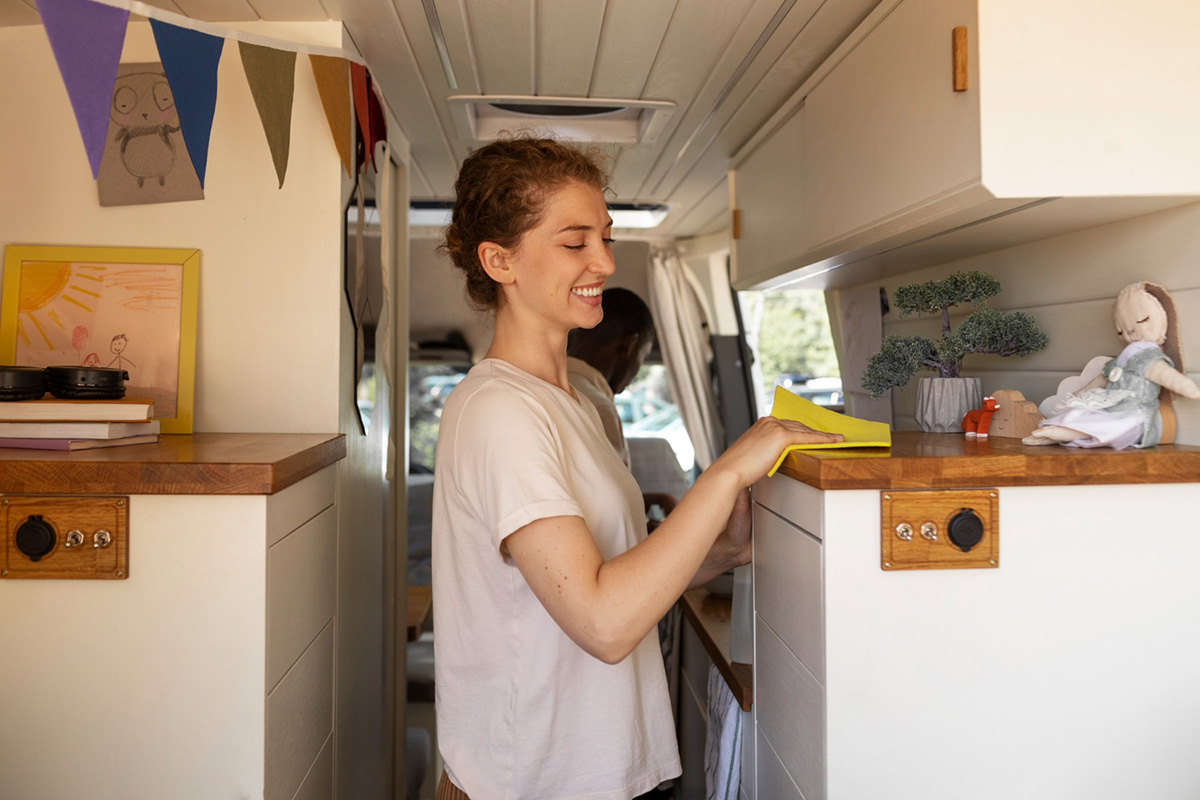 Are you getting ready for a spring cleaning spectacular? Don't forget to clean your RV! Regarding RV spring cleaning, there's more involved than grabbing some Clorox wipes and window cleaner and ensuring your interior surfaces are disinfected and refreshed. Since it only rolls around once a year, take advantage of your spring cleaning opportunity to do an intense, thorough job on the rig, taking care of both your interior and exterior and catching up with any insignificant maintenance problems you may have been tolerating for a while.
It may seem like a lot of work, but you'll thank yourself when the RV is in sound, working order for many more seasons to come — not to mention nice and spotless for the next time you're inclined to head out on vacation.
Are you keen to get started? According to experts from our RV park near Pleasanton, TX, here's how to attack RV spring cleaning like a professional.
Like any major project, you'll have better luck with RV spring cleaning when you start with a plan. After all, a motorhome is simply that — your home on wheels. So there's plenty to tackle! Although your RV's exterior and motor maintenance are essential, it might be most manageable to begin by deep cleaning the RV's interiors. That means thoroughly disinfecting the RV's kitchen and bathroom, vacuuming your carpet, mopping your floor, and dusting the other surfaces. But if you live in the rig full time or camp frequently, you might also want to go through your drawers and cabinets to eliminate old, outdated items crowding up your storage areas.
From cleaning toilets to keeping interior furniture looking new, a few products can help you do the job with ease and efficiency. For instance, many RV owners care for their floors with a dry mop like a Swiffer instead of a full-on mop and bucket. It's imperative not to soak your RV's floor because critical mechanical systems are under it, and using a mop alternative is quicker and easier. Make sure whatever product or cleaning pad you utilize is the right one for the kind of floor your RV has, whether tile, wood, or laminate!
If you wonder how to clean the RV's plastic sink or shower, the solution is the right product — and a little patience. Sometimes the white plastic in RVs tends to stain, and using a quality RV restroom cleaner can make all the difference! Remember your plumbing system, too. Spring cleaning is a wonderful time to drain the tanks and utilize bleach to provide a thorough cleaning and clean your holding tank sensors.
Cleaning the Exterior of Your RV
Once your RV interior is spic and span, it's time to move on to the portion of your RV that does not get as much attention — the exterior. Particularly if your rig isn't stowed under cover when it's not in use, it's crucial to include a thorough wash and roof check when spring cleaning!
You can employ a commercial auto cleaning product for most of the RV's exterior since they are safe on the paint employed in the automotive industry — including on RVs. Some people use a regular household cleanser, like dish soap, but they can occasionally strip wax and other finishes. You'll also require a brush with an extendable handle to reach all of your RV. It's a lot taller than traditional vehicles! While you're at it, get up on your roof to check the RV's air conditioning casing for cracks and check for any leaky seals that can cause interior water damage. It would help if you also cleaned up your RV's canopy and awnings.
These are a few tips for spring cleaning your RV. Contact us today for an RV park near Pleasanton, TX. We can't wait to see you!