How to Bring in a New Year in Your RV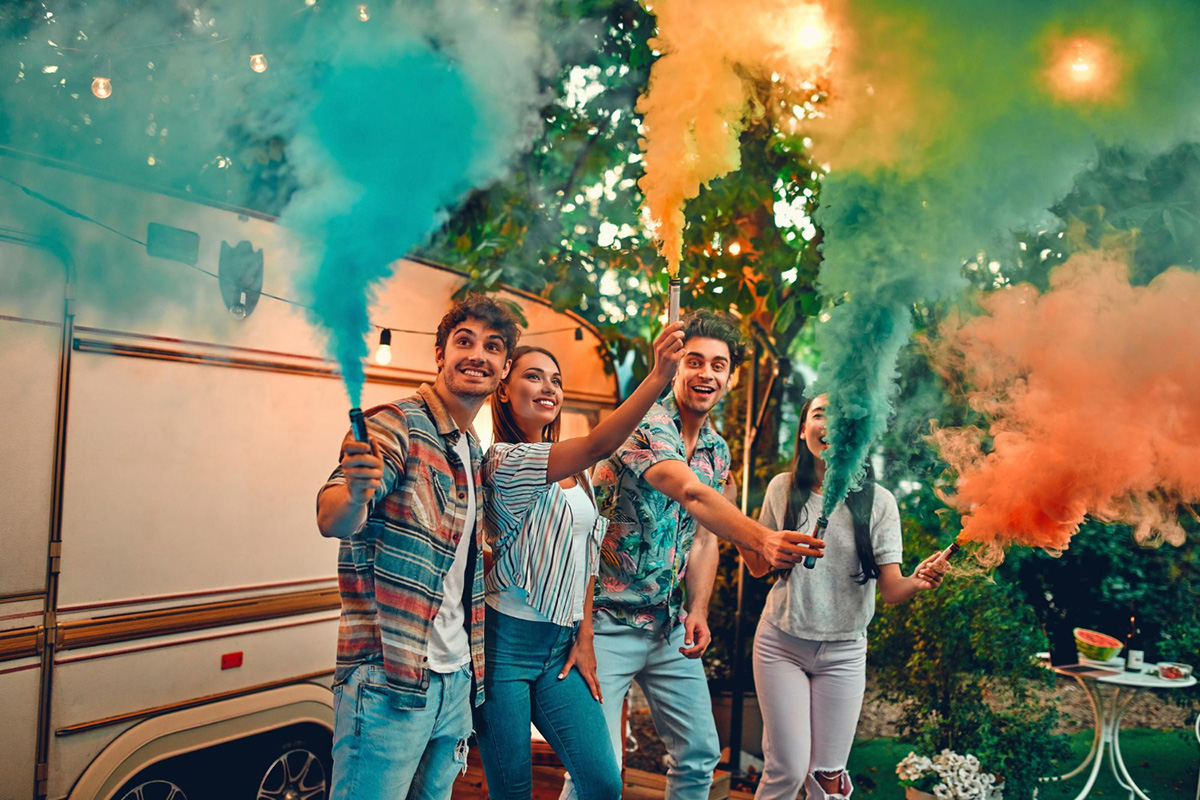 Are you excited about the beginning of the new year? If so, you may want to know how to celebrate the New Year in your RV. Whether a full-timer that lives in your RV year-round or just out on a late December camping trip someplace warm, a campground is a delightful place to celebrate! If you're celebrating in an RV instead of a house, there are numerous ways to have fun with relatives and friends you invite over. Experts from our RV park in Pleasanton, TX, want you to make the best of your celebration even with restricted space available!
Decorate the Windows of Your RV
Purchase decorative signs and festive decorations to place in the windows and inside and outside of your RV. You can find many affordable options that are simple to hang anywhere around the RV.
Hang String Lights Inside and Outside
Get excited with bright, bold lights that radiate throughout your RV. You can hang the string lights inside your RV, placing them around your ceiling and in your windows. And, with battery-operated options, you can hang them outside without stressing about them being damaged. The bright white and yellow lights bring a festive mood and excite you about ringing in the New Year!
Play a Fun Game with Family and Friends
Check out some of the best games to play and grab a few to stay busy and engaged. Games can supply a ton of laughs, and they are excellent at keeping everyone entertained for several hours while waiting for midnight to strike! You can pick family-friendly games or adult games, depending on your gathering.
Watch the Ball Drop
If your camper has TV or internet access, you can watch the New Year's Eve celebrations in Time Square. Try to leave the tv off until about 11 pm, and then tune in for the countdown.
Have a Potluck
Instead of attempting to cook a big meal in the RV when you have restricted space available to work in, host a potluck. Each visitor can bring something they made at home, like green bean casserole, baked macaroni pie, apple pie, pasta salad, and more. Then, with a potluck, you can avoid doing all the work in a confined area while ensuring enough food for the visitors you've invited to your RV to bring in the New Year together.
Celebrating New Year's Eve in Your RV
Bringing in the New Year in your RV is a wonderful idea. You can embellish the RV as you would with your house, play games, and even have a potluck to guarantee that everyone can eat delicious food while anticipating the beginning of a new year. You can even include some of these New Year's Eve good luck rituals into your New Year's Eve celebration if you want!
However you celebrate, we hope you have a fun, safe, and enjoyable time! Contact us today if you are looking for an RV park in Pleasanton, TX.